Tickets $20! Hurry, sale ends August 1st!
West Virginia Wine and Jazz Festival
September 21st and 22nd, 2019
(Saturday and Sunday)
Camp Muffly (Morgantown, WV)
Saturday: 11 AM – 6 PM
Sunday: 12 noon – 6 PM
Admission ($25) includes wine glass, wine tasting (21 and over). Tickets available online or at the door.
No pets, no outside food or drinks permitted.
Cupcakerie
Garcias Latin Market
Jersey Subs
Lamberts
Madeleine Maries' Catering
Russ' Ribs
Slight Indulgence
The Greeks
The Pretzel Factory


WVU Jazz Ensemble – 11:00
Dave Braham Trio – 12:30
WVU Faculty Jazz Quintet – 2:00
Kenny Rittenhouse Quartet – 3:30
Reginald Cyntje Group – 5:00
West Virginia Wesleyan Student Ensemble – 12:30
James Fernando Trio – 2:00
Ensemble at Sundown Quartet Featuring Sarah D'Angelo – 3:30
Morgantown Jazz IX – 5:00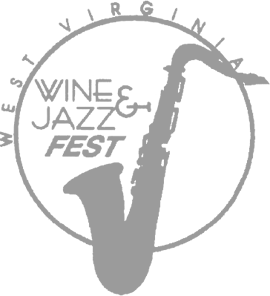 West Virginia Wine and Jazz Fest, Inc. is a nonprofit organization – 501(c)3 status – that seeks to return the proceeds from the annual festival back to the community in various ways. These include endowed scholarships to the WVU School of Music, sponsorship of educational endeavors and classes at WVU, free concerts for area middle/high schools, sponsorship of various student and community organizations that assist with the festival.